Powerint 公司的DER-228 15W电源设计案例是采用TinySwitch-III 系列的TNY278P器件,无负载的输入功耗低于30mW,输入电压从85VAC到265VAC,输入电压12V,输出电流1.25A,采用反激架构. TinySwitch-III系列采用ON/OFF控制方案,集成了700V的MOSFET,振荡器,高压开关电流源,限流和热关断电路,为低功耗电源设计提供了很灵活的解决方案.本文介绍了TinySwitch-III 系列TNY278P器件的主要特性,方框图以及12 V, 1 A 通用输入电源电路图和DER-228 15W电源设计案例的详细电路图和材料清单.
TinySwitch-III incorporates a 700 V power MOSFET, oscillator, high voltage switched current source, current limit (user selectable) and thermal shutdown circuitry. The IC family uses an ON/OFF control scheme and offers a design flexible solution with a low system cost and extended power capability.
TinySwitch-III 系列主要特性:
Lowest System Cost with Enhanced Flexibility
• Simple ON/OFF control, no loop compensation needed
• Selectable current limit through BP/M capacitor value Higher current limit extends peak power or, in open frame applications, maximum continuous power Lower current limit improves efficiency in enclosed adapters/chargers Allows optimum TinySwitch-III choice by swapping devices with no other circuit redesign
• Tight I2f parameter tolerance reduces system cost Maximizes MOSFET and magnetics power delivery Minimizes max overload power, reducing cost of transformer, primary clamp & secondary components
• ON-time extension – extends low line regulation range/hold-up time to reduce input bulk capacitance
• Self-biased: no bias winding or bias components
• Frequency jittering reduces EMI filter costs
• Pin-out simplifi es heatsinking to the PCB
• SOURCE pins are electrically quiet for low EMI
Enhanced Safety and Reliability Features
• Accurate hysteretic thermal shutdown protection with automatic recovery eliminates need for manual reset
• Improved auto-restart delivers <3% of maximum power in short circuit and open loop fault conditions
• Output overvoltage shutdown with optional Zener
• Line undervoltage detect threshold set using a single optional resistor
• Very low component count enhances reliability and enables single-sided printed circuit board layout
• High bandwidth provides fast turn on with no overshoot and excellent transient load response
• Extended creepage between DRAIN and all other pins improves field reliability
EcoSmart– Extremely Energy Efficient
• Easily meets all global energy efficiency regulations
• No-load <150 mW at 265 VAC without bias winding, <50 mW with bias winding
• ON/OFF control provides constant effi ciency down to very light loads – ideal for mandatory CEC regulations and 1 W PC standby requirements
TinySwitch-III 应用:
• Chargers/adapters for cell/cordless phones, PDAs, digital cameras, MP3/portable audio, shavers, etc.
• PC Standby and other auxiliary supplies
• DVD/PVR and other low power set top decoders
• Supplies for appliances, industrial systems, metering, etc.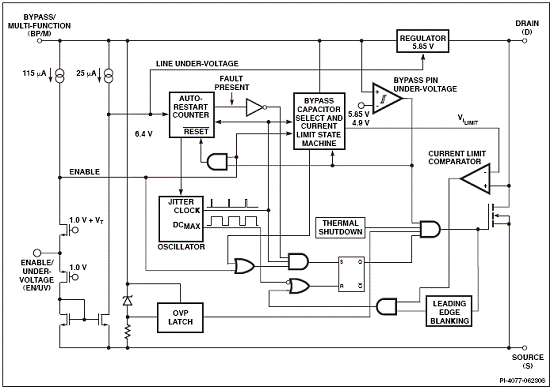 图1.TinySwitch-III功能方框图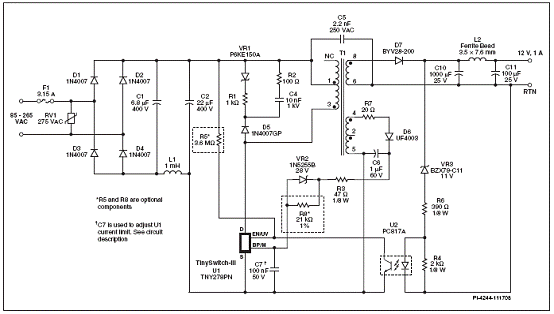 图2.采用TNY278P的12 V, 1 A 通用输入电源电路图
采用TinySwitch-III (TNY278P)的DER-228 15W电源设计案例
15 W Power Supply with <30 mW No-load Input Power Using TinySwitch-III (TNY278P)85 VAC – 265 VAC Input; 12 V, 1.25 A Output
This report describes a universal input, 12 V, 1.25 A flyback power supply using a TNY278P device from the TinySwitch-III family of ICs. The goal of the design was to demonstrate the very low no-load input power that is achievable with TinySwitch-III devices.
DER-228 15W电源设计案例主要特性:
• EcoSmart® – Meets all existing and proposed harmonized energy efficiency standards including: CECP (China), CEC, EPA, AGO, European Commission
• No-load consumption < 30 mW at 230 VAC
• > 81% active-mode efficiency
• Exceeds ENERGY STAR v2 / EuP tier 2 requirements of 79%
• BP/M capacitor value selects MOSFET current limit for greater design flexibility
• Tightly toleranced I2f parameter (–10%, +12%) reduces system cost:
• Increases MOSFET and magnetics power delivery
• Reduces overload power, which lowers output diode and capacitor costs
• Integrated TinySwitch-III Safety/Reliability features:
• Accurate (± 5%), auto-recovering, hysteretic thermal shutdown function maintains safe PCB temperatures under all conditions
• Auto-restart protects against output short circuit and open loop fault conditions
• > 3.2 mm creepage on package enables reliable operation in high humidity and high pollution environments
• Meets EN550022 and CISPR-22 Class B conducted EMI with >12 dB margin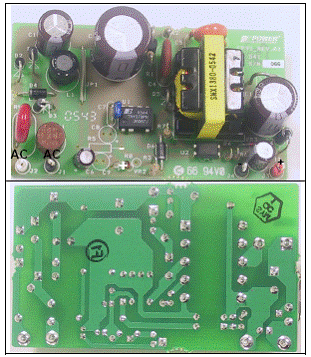 图3.DER-228 15W电源PCB外形图(3.2x1.8吋)
DER-228 Populated Circuit Board Photographs (3.2 × 1.8 inches).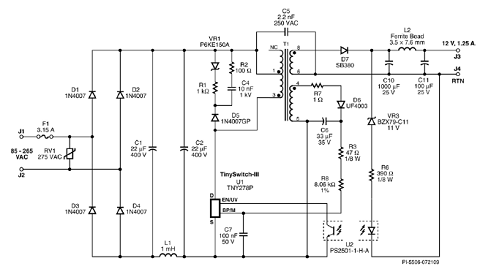 图4.DER-228 15W电源电路图
材料清单:Bill of Materials