ADI公司的血压计解决方案采用3轴±2 g/±4 g/±8 g/±16 g 数字加速度计ADXL345,
12位电容-数字转换器AD7152/AD7153, 全速/低速USB数字绝缘器ADuM4160,单电极容性传感器CapTouch可编程控制器AD7147,以及带低部端口和数字输出的iMEMS麦克风ADMP421等器件.本文介绍了血压计解决方案方框图,以及所采用的主要元器件的主要特性,方框图和应用电路等.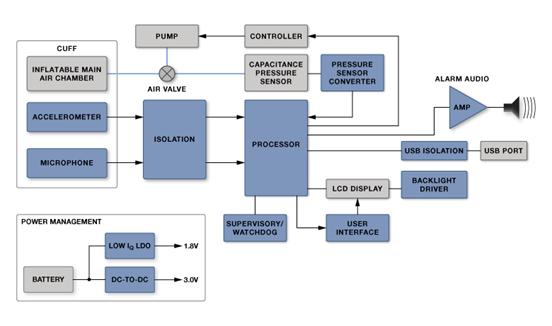 图1.电子血压计方框图
主要元器件介绍:
ADXL345: 3-Axis, ±2 g/±4 g/±8 g/±16 g Digital Accelerometer
The ADXL345 is a small, thin, low power, 3-axis accelerometer with high resolution (13-bit) measurement at up to ±16 g. Digital output data is formatted as 16-bit twos complement and is acces-sible through either a SPI (3- or 4-wire) or I2C digital interface.
The ADXL345 is well suited for mobile device applications. It measures the static acceleration of gravity in tilt-sensing appli-cations, as well as dynamic acceleration resulting from motion or shock. Its high resolution (4 mg/LSB) enables measurement of inclination changes less than 1.0°.
Several special sensing functions are provided. Activity and inactivity sensing detect the presence or lack of motion and if the acceleration on any axis exceeds a user-set level. Tap sensing detects single and double taps. Free-fall sensing detects if the device is falling. These functions can be mapped to one of two interrupt output pins. An integrated, patent pending 32-level first in, first out (FIFO) buffer can be used to store data to minimize host processor intervention.
Low power modes enable intelligent motion-based power management with threshold sensing and active acceleration measurement at extremely low power dissipation.
The ADXL345 is supplied in a small, thin, 3 mm × 5 mm × 1 mm, 14-lead, plastic package.
ADXL345主要特性:
Ultralow power: as low as 40 μA in measurement mode and 0.1 μA in standby mode at VS = 2.5 V (typical)
Power consumption scales automatically with bandwidth
User-selectable resolution
Fixed 10-bit resolution
Full resolution, where resolution increases with g range, up to 13-bit resolution at ±16 g (maintaining 4 mg/LSB scale factor in all g ranges)
Embedded, patent pending FIFO technology minimizes host processor load
Tap/double tap detection
Activity/inactivity monitoring
Free-fall detection
Supply voltage range: 2.0 V to 3.6 V
I/O voltage range: 1.7 V to VS
SPI (3- and 4-wire) and I2C digital interfaces
Flexible interrupt modes mappable to either interrupt pin
Measurement ranges selectable via serial command
Bandwidth selectable via serial command
Wide temperature range (−40℃ to +85℃)
10,000 g shock survival
Pb free/RoHS compliant
Small and thin: 3 mm × 5 mm × 1 mm LGA package
ADXL345应用:
Handsets
Medical instrumentation
Gaming and pointing devices
Industrial instrumentation
Personal navigation devices
Hard disk drive (HDD) protection
Fitness equipment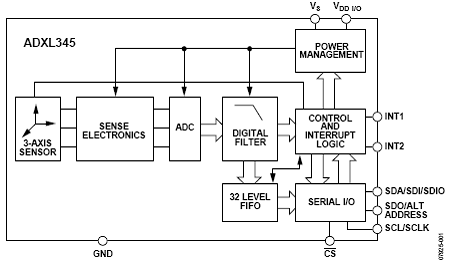 图2. ADXL345方框图
http://www.analog.com/static/imported-files/data_sheets/ADXL345.pdf
12-Bit Capacitance-to-Digital Converter AD7152/AD7153
The AD7152/AD7153 are 12-bit sigma-delta (Σ-Δ) capacitance-to-digital converters (CDCs). The capacitance to be measured is connected directly to the device inputs. The architecture features inherent high resolution (12-bit no missing codes, up to 12-bit effective resolution) and high linearity (±0.05%). The AD7152/AD7153 have four capacitance input ranges per operation mode, ±0.25 pF to ±2 pF in differential mode and 0.5 pF to 4 pF in single-ended mode.
The AD7152/AD7153 can accept up to 5 pF common-mode capacitance (not changing), which can be balanced by a programmable on-chip, digital-to-capacitance converter (CAPDAC).
The AD7153 has one capacitance input channel, while the AD7152 has two channels. Each channel can be configured as single-ended or differential. The AD7152/AD7153 are designed for floating capacitive sensors.
The AD7152/AD7153 have a 2-wire, I2C®-compatible serial interface. Both parts can operate with a single power supply from 2.7 V to 3.6 V. They are specified over the temperature range of −40°C to +85°C and are available in a 10-lead MSOP package.
AD7152主要特性:
Capacitance-to-digital converters
Interfaces to floating sensors
Resolution down to 0.25 fF (that is, up to 12 ENOB)
Linearity: 0.05%
Common-mode (not changing) capacitance up to 5 pF
Four capacitance ranges selectable per operation mode
±0.25 pF to ±2 pF in differential mode
0.5 pF to 4 pF in single-ended mode
Tolerant of parasitic capacitance to ground up to 50 pF
Conversion time per channel: 5 ms, 20 ms, 50 ms, and 60 ms
Internal clock oscillator
2-wire serial interface (I2C-compatible)
Power
2.7 V to 3.6 V single-supply operation
100 μA current consumption
Operating temperature: −40℃ to +85℃
10-lead MSOP package
AD7152应用:
Automotive, industrial, and medical systems for
Pressure measurement
Position sensing
Level sensing
Flowmeters
Humidity sensing

图3.AD7152和AD7153方框图

图4.AD7153差分容性传感器基本应用电路图
http://www.analog.com/static/imported-files/data_sheets/AD7152_7153.pdf
Full/Low Speed USB Digital Isolator ADuM4160
The ADuM4160 is a USB port isolator, based on Analog Devices, Inc., iCoupler® technology. Combining high speed CMOS and monolithic air core transformer technology, these isolation components provide outstanding performance characteristics and are easily integrated with low and full speed USB-compatible peripheral devices.
Many microcontrollers implement USB so that it presents only the D+ and D− lines to external pins. This is desirable in many cases because it minimizes external components and simplifies the design; however, this presents particular challenges when isolation is required. USB lines must automatically switch between actively driving D+/D−, receiving data, and allowing external resistors to set the idle state of the bus. The ADuM4160 provides mechanisms for detecting the direction of data flow and control over the state of the output buffers. Data direction is determined on a packet-by-packet basis.
The ADuM4160 uses the edge detection based iCoupler tech-nology in conjunction with internal logic to implement a transparent, easily configured, upstream facing port isolator. Isolating an upstream facing port provides several advantages in simplicity, power management, and robust operation.
The isolator has propagation delay comparable to that of a standard hub and cable. It operates with the supply voltage on either side ranging from 3.1 V to 5.5 V, allowing connection directly to VBUS by internally regulating the voltage to the signaling level. The ADuM4160 provides isolated control of the pull-up resistor to allow the peripheral to control connection timing. The device has a low idle current; a suspend mode is required.
ADuM4160主要特性:
USB 2.0 compatible
Low and full speed data rate: 1.5 Mbps and 12 Mbps
Bidirectional communication
Short-circuit protection for xD+ and xD− lines
3.3 V and 5 V (dual mode power configuration) operation
7 mA maximum upstream supply current @ 1.5 Mbps
8 mA maximum upstream supply current @ 12 Mbps
2.3mA maximum upstream idle current
Class 3A contact ESD performance per ANSI/ESD STM5.1-2007
High temperature operation: 105℃
High common-mode transient immunity: >25 kV/μs
16-lead SOIC wide-body package
RoHS compliant
Safety and regulatory approvals
UL recognition: 5000 V rms for 1 minute per UL 1577 (pending)
CSA Component Acceptance Notice #5A
IEC 60601-1: 125 V rms (reinforced)
IEC 60950-1: 380 V rms (reinforced)
VDE certificate of conformity (pending)
DIN V VDE V 0884-10 (VDE V 0884-10):2006-12
VIORM = 846 V peak
ADuM4160应用:
USB peripheral isolation
Isolated USB hub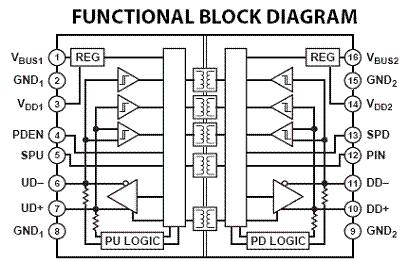 图5.ADuM4160方框图

图6.ADuM4160典型应用
http://www.analog.com/static/imported-files/data_sheets/ADuM4160.pdf
CapTouch Programmable Controller for Single-Electrode Capacitance Sensors AD7147
The AD7147 CapTouch™ controller is designed for use with capacitance sensors implementing functions such as buttons, scroll bars, and wheels. The sensors need only one PCB layer, enabling ultrathin applications.
The AD7147 is an integrated CDC with on-chip environmental calibration. The CDC has 13 inputs channeled through a switch matrix to a 16-bit, 250 kHz sigma-delta (Σ-Δ) converter. The CDC is capable of sensing changes in the capacitance of the external sensors and uses this information to register a sensor activation. By programming the registers, the user has full control over the CDC setup.
High resolution sensors require minor software to run on the host processor.
The AD7147 is designed for single electrode capacitance sensors (grounded sensors). There is an active shield output to minimize noise pickup in the sensor.
The AD7147 has on-chip calibration logic to compensate for changes in the ambient environment. The calibration sequence is performed automatically and at continuous intervals as long as the sensors are not touched. This ensures that there are no false or nonregistering touches on the external sensors due to a changing environment.
The AD7147 has an SPI-compatible serial interface, and the AD7147-1 has an I2C®-compatible serial interface. Both parts have an interrupt output, as well as a GPIO. There is a VDRIVE pin to set the voltage level for the serial interface independent of VCC.
The AD7147 is available in a 24-lead, 4 mm × 4 mm LFCSP and operates from a 2.6 V to 3.6 V supply. The operating current con-sumption in low power mode is typically 26 μA for 13 sensors.
AD7147主要特性:
Programmable capacitance-to-digital converter (CDC)
Femtofarad resolution
13 capacitance sensor inputs
9 ms update rate, all 13 sensor inputs
No external RC components required
Automatic conversion sequencer
On-chip automatic calibration logic
Automatic compensation for environmental changes
Automatic adaptive threshold and sensitivity levels
Register map is compatible with the AD7142
On-chip RAM to store calibration data
SPI-compatible (serial-peripheral-interface-compatible) serial interface (AD7147)
I2C-compatible serial interface (AD7147-1)
Separate VDRIVE level for serial interface
Interrupt output and general-purpose input/output (GPIO)
24-lead, 4 mm × 4 mm LFCSP
2.6 V to 3.3 V supply voltage
Low operating current
Full power mode: 1 mA
Low power mode: 21.5 μA
AD7147应用:
Cell phones
Personal music and multimedia players
Smart handheld devices
Television, A/V, and remote controls
Gaming consoles
Digital still cameras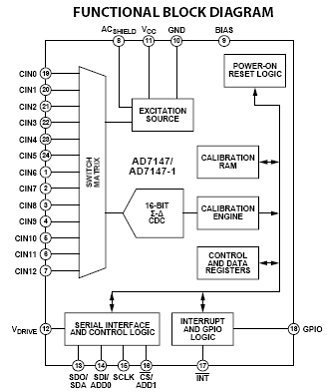 图7. AD7147方框图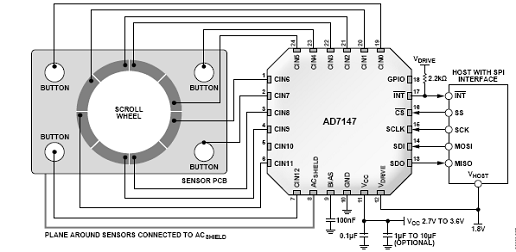 图8.AD7147 SPI接口应用电路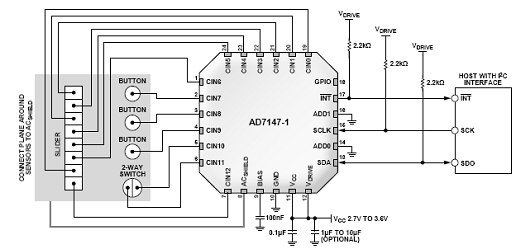 图9.AD7147 I2C接口应用电路
http://www.analog.com/static/imported-files/data_sheets/AD7147.pdf
ADMP421: iMEMS® Microphone Omni Directional Microphone with Bottom Port and Digital Output
The ADMP421 is a low cost, low power, digital output bottom ported omni-directional MEMs microphone. The ADM421 consists of a MEMs microphone element, an output amplifier and a 4th order sigma delta modulator. The digital interface allows for the PDM (Pulse Density Modulated) output of two microphones to be time multiplexed on a single data line using a single clock.
The ADMP421 has a high SNR of 60.5 dBA, and a high sensitivity, of -26 dBFS. The high SNR and sensitivity make the ADMP421 excellent for far field applications. The ADMP421 has a flat frequency response from 100 Hz through 15 kHz. Low current consumption enables long battery life for portable applications. A built in particle filter provides for high reliability.
The ADMP421 will be available in a very thin 3 mm × 4 mm × 1 mm surface mount package. It is reflow solder compatible with no sensitivity degradation.
AD7147主要特性:
Small and thin 3 mm × 4 mm × 1 mm surface mount package
High SNR 60.5 dBA
High Sensitivity -26 dBFS
Flat Frequency Response from 100 to >12 kHz
Low Current Consumption < 650 μAmps
High PSRR of 80 dBFS
4th Order Sigma Delta Modulator
Digital PDM output
Compatible with Sn/Pb and Pb-free solder processes
RoHS Compliant
AD7147应用:
Cell Phones
PC Audio
Digital Cameras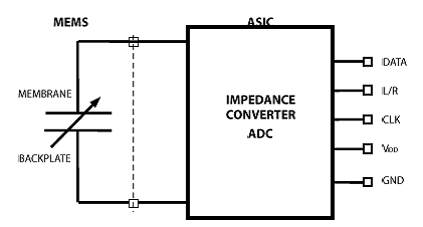 图10.AD7147功能方框图